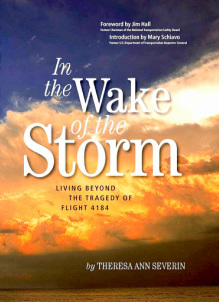 In the Wake of the Storm,
by Terri Severin, is a true story of love, loss, healing, and renewal, which offers all readers a universal message of hope. It is a powerful demonstration of the resilience of the human spirit that will resonate with anyone coping with loss or hardship.
It is the definitive account of a historic aviation disaster that sparked courageous individuals to turn their victimization into empowerment by advocating for much-needed change, which guides disaster response today.
In the Wake of the Storm
has been acclaimed as a primer on the human factor in the aftermath of a disaster. It has been adopted in college curricula, first responder training, mass fatality conferences, and has been featured in both local and national media. It has been used as a training tool by Life Flight Network, a helicopter emergency transport company.
The National Geographic Society utilized the book in the production of its televised dramatization of the crash of 4184, "Frozen in Flight." It was required reading for the creators of
Sole Survivor
, a CNN award-winning documentary about the struggle of plane crash survivors to re-engage with everyday life.
An expanded eBook edition includes new reflections by the author, media coverage, photos, and video that invite the reader to relive an event that shattered lives and shook the aviation industry.
---
Foreword by Jim Hall

Former Chairman, National Transportation Safety Board

Managing Partner, Hall & Associates LLC

Introduction by Mary Schiavo

Former U.S. Department of Transportation Inspector General,

Television Commentator, Aviation Attorney, Motley Rice LLC

Finalist for the prestigious

Eric Hoffer Book Award

for Excellence in Independent Publishing!

For reader reactions, click

Reviews

tab

A Word from the Author

Several years after the airline crash that claimed my sister and nephew, I decided to document their lives for her surviving son. In the midst of preserving these special memories, another story began to reveal itself. That odyssey, recounted in my book, is an inspiring tale of hope and activism that led to landmark legislation—the

Aviation Disaster Family Assistance Act of 1996

—which revamped and redefined family response.

In 2014, at its twentieth anniversary, the crash of American Eagle Flight 4184 continues to shape my life. I have been privileged to witness the evolution of family response and its impact, first on the airline industry, then on mass transportation, and then at the international level. Family response has also become a key topic at conferences addressing mass-fatality events, both natural and man-made. The progression of this movement is an inspiring advance that may one day benefit you and your loved ones.